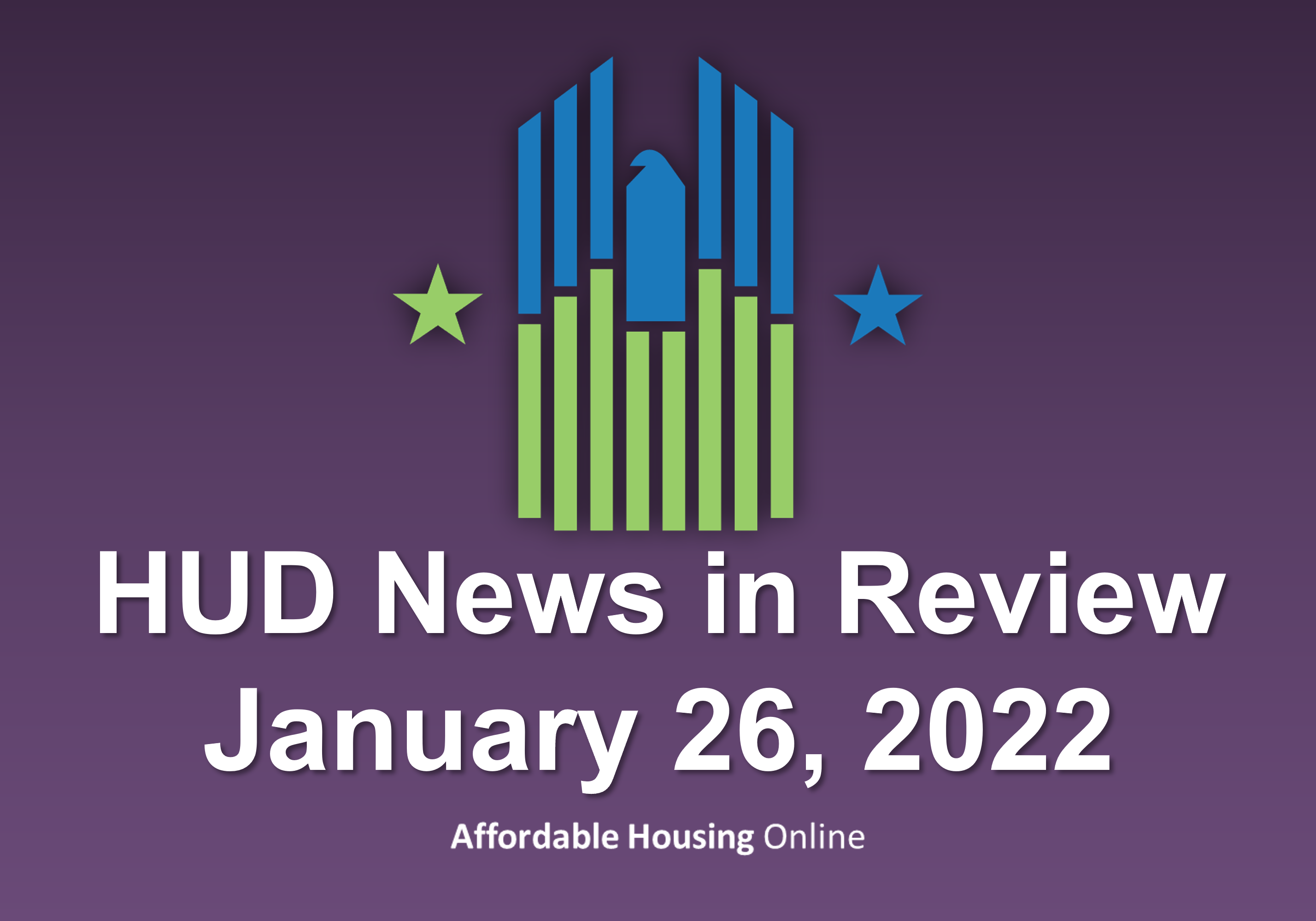 Disclaimer: Affordable Housing Online is not affiliated with HUD, or any HUD agency.
This week's HUD events include:
"Year in Review" Fact Sheet Released
Date Posted: January 20, 2022
The U.S. Department of Housing and Urban Development (HUD) published a "Year in Review" document summarizing the initiatives and actions taken by HUD under the Biden-Harris Administration in 2021.
A newly published Fact Sheet of actions and initiatives in that Year in Review included the following:
Began a Whole-of-Government initiative to balance the inequity in home appraisals by creating a Property Appraisal and Valuation Equity (PAVE) Task Force. The Task Force had the mission to "identify and utilize all levers at their disposal to root out discrimination in the home appraisal process". A report outlining the extent of the problem and detailed agency actions and commitments will be submitted to President Biden in the next few months.
Launched House America to use American Rescue Plan (ARP) funding to re-house at least 100,000 homeless people and develop plans to add 20,000 new affordable and permanent housing units for the homeless by the end of 2022.
Prevented thousands of evictions and foreclosures for families unable to pay rent or mortgage payments because of the COVID-19 pandemic, through the use of historic funding made available under the Consolidated Appropriations Act and ARP.  
Made $5 billion available through the HOME-ARP Program to state and local governments to assist with reducing homelessness and increasing housing stability for rental housing and supportive services. 
Issued 70,000 Emergency Housing Vouchers (EHVs) as part of ARP, to Public Housing Authorities (PHAs) and their local Continuum of Care agencies, to assist families and persons who are "homeless, at risk of homelessness, fleeing or attempting to flee, domestic violence, dating violence sexual assault, stalking, or human trafficking, persons formerly incarcerated or were recently homeless or have high risk of housing instability". 
Updated the Federal Housing Administration (FHA) student loan debt policy to "provide better access to single-family FHA mortgage financing for creditworthy individuals with student loan debt". The update called for the student loan payment to be based on the actual payment instead of one percent of the outstanding loan balance for student loans that are not amortized.
Signed a memorandum of understanding (MOU) with the Federal Housing Finance Agency (FHFA) to collaborate on fair housing and fair lending enforcement and oversight with Fannie Mae, Freddie Mac, and the Federal Home Loan Banks. HUD also published a legal memorandum clarifying that certain Special Purpose Credit Programs (SPCPs) that are lawful under the Equal Credit Opportunity Act generally are not barred by the Fair Housing Act, thus allowing lenders to expand access to credit in underserved communities.
Restarted HUD's Housing Finance Agency Risk-Sharing program with Treasury's Federal Financing Bank (FFB) to develop more affordable rental homes. HUD also "made more single-family homes available to individuals, families, and non-profit organizations – rather than large investors – by prioritizing homeownership and limiting sale to large investors of certain FHA-insured and HUD-owned properties".
Announced that HUD would expand the protections of the Fair Housing Act to combat discrimination on the basis of sexual orientation and gender identity. HUD processed 235 cases alleging sex discrimination due to gender identity and sexual orientation.
Gave $750 million through ARP funding to assist Native Americans and Native Hawaiians to reduce housing related health risks during the pandemic.
HUD's full "Year in Review" press release can be read here.
Four new members appointed to counseling committee
Date Posted: January 24, 2022
HUD recently appointed four new members to the Housing Counseling Federal Advisory Committee. These new members bring the number back to 12, as authorized by statute.
In 2015, HUD established the Housing Counseling Federal Advisory Committee to advise HUD's Office of Housing Counseling on ways to accomplish their objectives.
These new members represent the mortgage industry, the real estate industry, consumers, and HUD-approved housing counseling agencies. They will each serve three-year terms.
More information about the new appointed members can be found here.
$51M awarded for institutions serving minorities
Date Posted: January 24, 2022
HUD awarded $51.4 million in grants to 177 HUD-approved agencies. The funding goes to "HUD-approved housing counseling agencies that are "partnering with Historically Black College and Universities (HBCUs), Hispanic Serving Institutions (HSIs), or other Minority Serving Institutions (MSIs)," according to the HUD press release.
The funding pays to fight the COVID-19 pandemic's impact on housing, maintain housing stability by helping families with foreclosure and rental eviction prevention, and help families make more informed housing choices. The awards also include funding to further training and education to attract and retain more housing counseling professionals.
HUD Secretary Marcia L. Fudge said:
"Whether a family is seeking affordable rental housing, buying their first home, or struggling to stay in current housing, now more than ever, housing counselors are supporting families' housing needs."
More information about these grants can be found here.
Housing vouchers for foster youth extended
Date Posted: January 25, 2022
HUD has extended the time that a person can receive housing assistance using a Family Unification Program (FUP) voucher, or a Foster Youth to Independence (FYI) voucher.
The time limit has been increased by 24 months, to a maximum of 60 months. The issued notice is an amendment to the Fostering Stable Housing Opportunities (FSHO) part of the of the Consolidated Appropriations Act of 2021.
According to the press release, "FSHO serves to help reduce the incidence of homelessness among former foster youth by providing them with housing assistance for a more extended period to focus on advancing their education, improving their career and employment prospects, and building financial security."
Danielle Bastarache, HUD Deputy Assistant Secretary for Public Housing and Voucher Programs, said:
"Every person, especially every young person, deserves the inherent security of a safe and stable home. Our Department continues to be committed to expanding assistance to public housing agencies across the country so that they can support more individuals in their future success."
Read more about the FUP and FYI voucher program extension here.