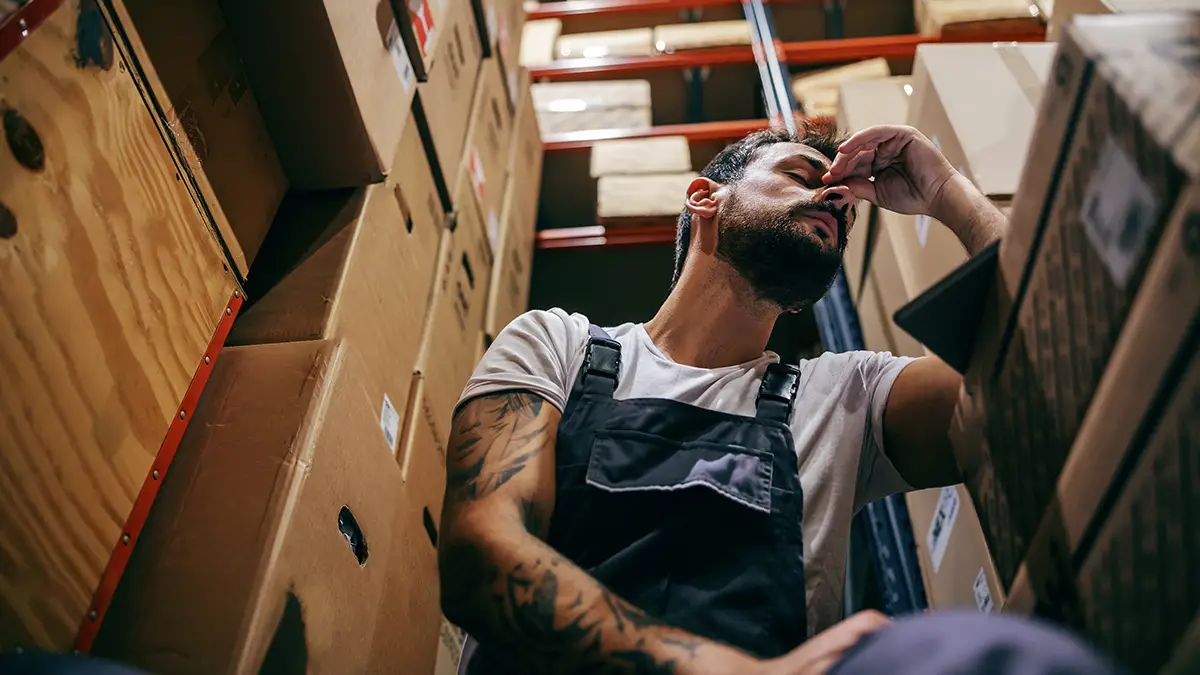 Almost half of the U.S. workforce does not earn enough to afford the rent for a modest two-bedroom apartment, according to a recent report.
The National Low-Income Housing Coalition's (NLIHC) annual report — Out of Reach 2022 — shows that there is no county in the nation where a minimum wage worker can afford the HUD Fair Market Rent (FMR) for a two-bedroom apartment.
The median national "Housing Wage" is $25.82 an hour. This is what it takes for a full-time worker to afford a two-bedroom home at HUD's FMR, without paying no more than 30% of income for rent and utilities.
When renters pay more than the Housing Wage, they have a housing cost burden. Cost-burdened renters have little left to pay for other necessities, like food, medicine, or transportation. The full report shows the housing wage for every county and major metropolitan area in the U.S.
Many common jobs do not pay a Housing Wage
Out of Reach 2022 shows that people working in many of the most common wage jobs do not earn a Housing Wage. In fact, renters in 11 of the 25 occupations with the most workers earn less than what it takes to afford housing in their communities.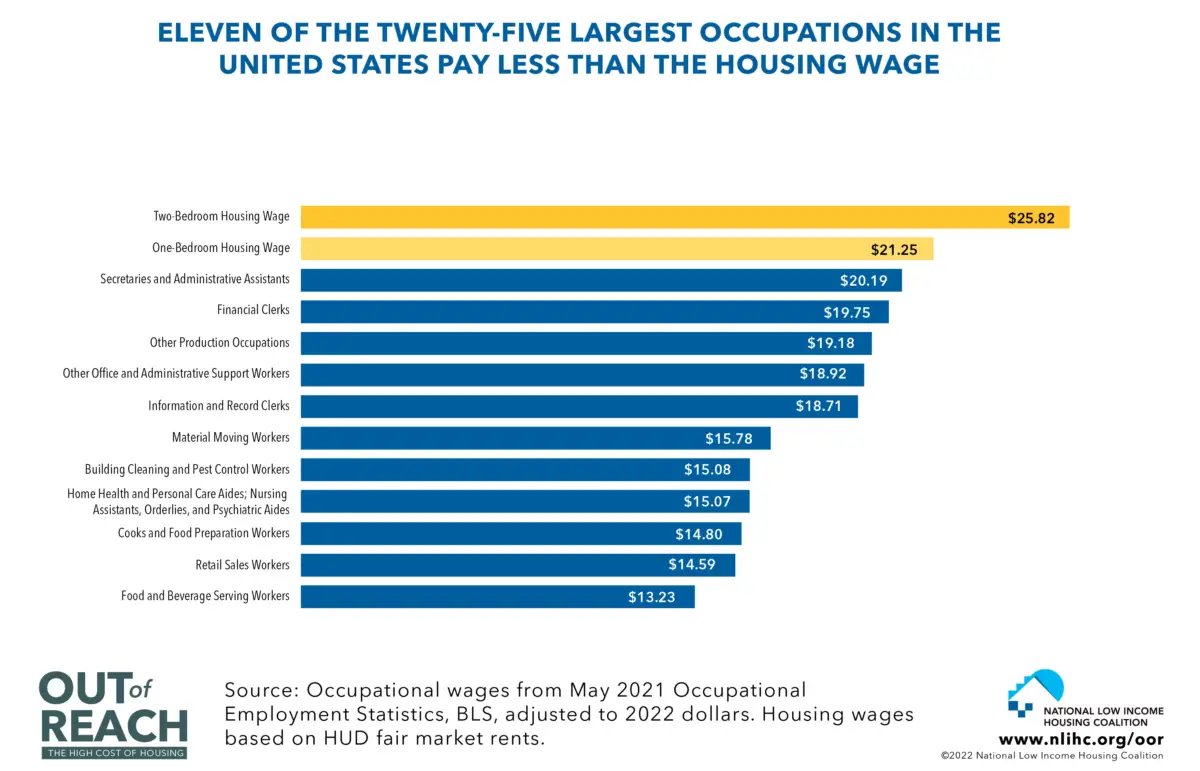 Workers in these 11 occupations make up 35% of the U.S. workforce. Among all occupations, workers who earn less than the local housing wage make up 46% of the U.S. workforce.
These are the jobs that proved critical during the pandemic. They include food service ($13.23), retail sales ($14.59), and building cleaning positions ($15.08) at the low end.
Even higher paying jobs do not earn enough to afford a modest two-bedroom apartment in most places. Secretaries ($20.19), production workers ($19.18), and other office staff ($18.92) generally cannot afford Fair Market Rents without working more hours or taking a second job.
Greater difficulties for the poorest renters
Extremely poor renters have an extra hard time finding affordable housing. These are renters who depend on public assistance, or work for the federal minimum wage of $7.25 an hour.
The monthly incomes for renters in these situations is well below what is needed to pay HUD's two-bedroom FMR.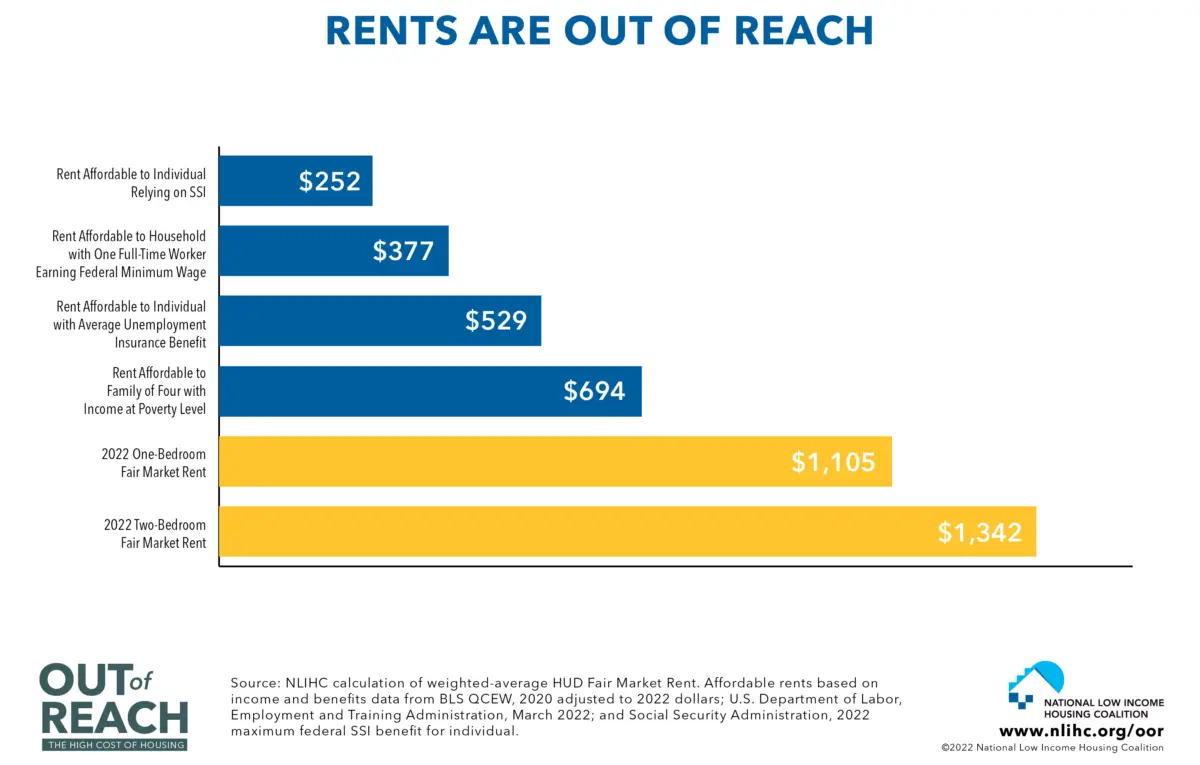 While the national two-bedroom FMR is $1,342 a month, a family of four with income at the poverty level can only afford $694 a month. An out-of-work renter receiving the average unemployment insurance benefit can only afford rent of $529 a month.
Many states and local jurisdictions have minimum wages higher than the federal rate of $7.25 an hour. But those who earn only the federal minimum have little hope of finding apartments they can afford at $377 a month. Persons with disabilities can only afford rent of $252 on typical Supplemental Security Income (SSI) payments.
Despite issues, the housing crisis can be solved
The affordable housing crisis has been building for a long time. There are too few apartments and homes to meet rental demand. Federal investment in new affordable housing has lagged for decades. The limited supply drives up rents, especially in hot markets with a lot of population growth.
At the same time, incomes have stagnated, especially for low-wage workers. Congress has not increased the minimum wage since 2009. The pandemic has made this situation even worse, putting many low-income renters at risk of eviction as pandemic protections and rental assistance run out.
Out of Reach 2022 makes a strong case for more investment in new housing and rental assistance to help struggling working families. Without federal assistance leading the way, the pandemic trend of growing unsheltered homelessness will likely only get worse. People doing hard work at full time jobs deserve better.