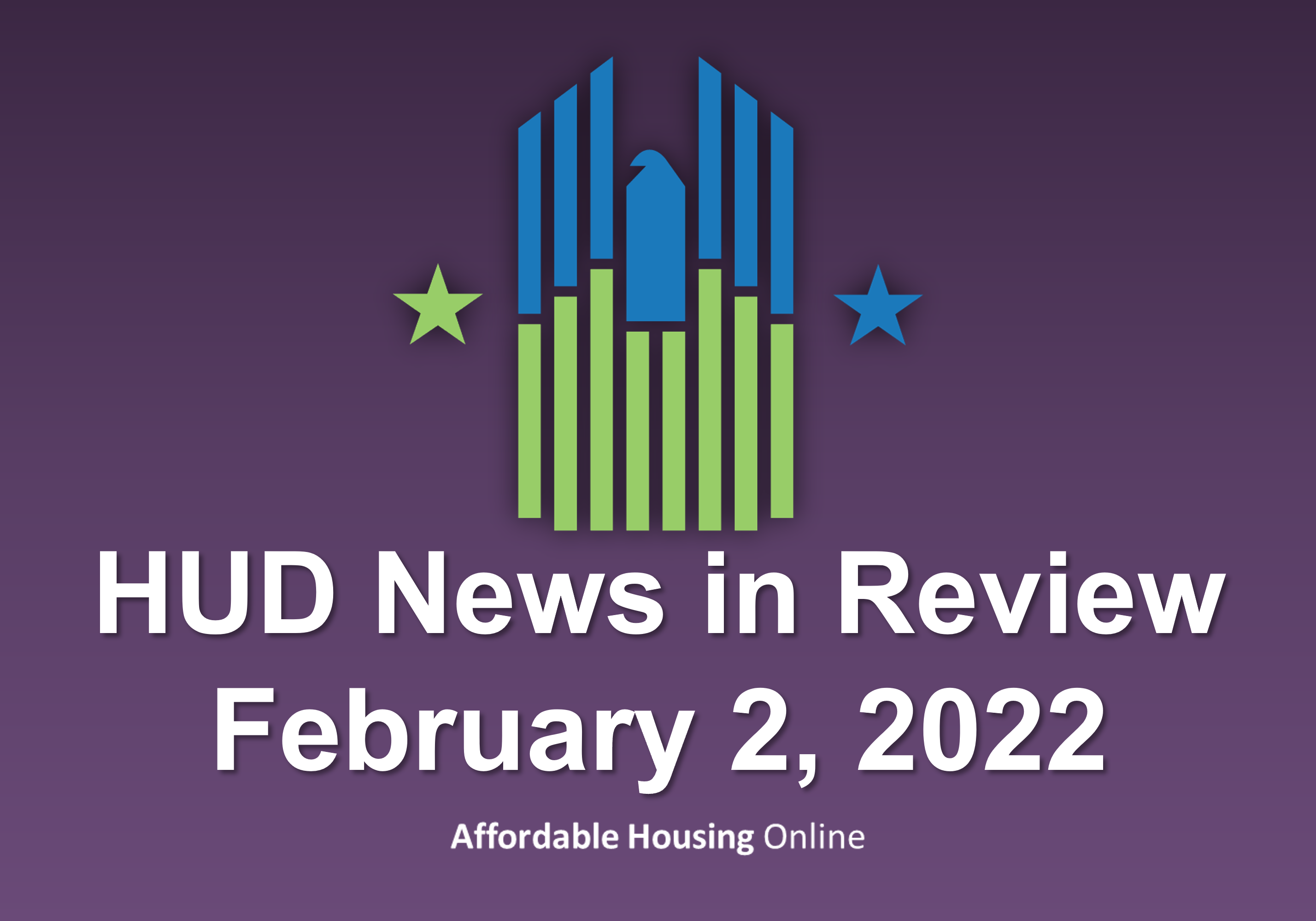 Disclaimer: Affordable Housing Online is not affiliated with HUD, or any HUD agency.
New residential home sales up in Dec. '21
Date Posted: January 26, 2022
HUD and the U.S. Census Bureau announced that new residential home sales in the U.S. are up by 11.9%  in December of last year, compared to November new home sales. However, sales are 14% lower than new home sales from December, 2020.
The median sale price of a new home in December, 2021 was $377,700 and the average price was $457,300. Median sale price means half the homes sold were cheaper and the other half were more expensive. Average sale price means the total number of prices divided by the number of houses sold.
There were 403,000 new houses for sale at the end of December, 2021.
Detailed information about new home sales can be found here.
PHAs given $4M for radon testing and mitigation
Date Posted: January 26, 2022
HUD made $4 million available to Public Housing Agencies for testing and mitigation of radon in Public Housing apartments and homes. This is a new program created to detect and mitigate natural occurring radon, which is the leading cause of lung cancer in non-smoking Americans.
Matthew Ammon, Director of HUD's Office of Lead Hazard Control and Healthy Homes, stated, "Too many families are at risk of serious illness because of exposure to radon, and we will continue our efforts to keep families, including children, safe."
The funds will be distributed using HUD's Notice of Funding Opportunity (NOFO) request process. HUD expects to make approximately 15 awards from the funds available under this program.
More information about the funds for radon testing and mitigation can be found here.
Secretary Fudge participates in annual count of homeless
Date Posted: January 27, 2022
Last Wednesday, HUD Secretary Marcia L. Fudge joined D.C. Mayor Muriel Browser and the staff of Pathways to Housing to count the number of homeless individuals living nationwide in shelters and on the streets in a single point in time.
The annual Point in Time (PIT) count is a way for HUD to gauge and understand the housing problem in the United States. It has been conducted in January every year since 2005.
The PIT count is considered the most reliable estimate of the number of people living without permanent shelter in the United States, in any given year.
"The PIT count is one of the most important tools the federal government has to understand local needs and to measure trends in homelessness through an annual single-night snapshot," said HUD Secretary Marcia L. Fudge. 
Read the Annual Homeless Assessment Report (AHAR) Part 1 here.
Twenty-Nine PHAs added to Moving To Work Program
Date Posted: January 27, 2022
HUD added 29 Public Housing Authorities (PHAs) to their Moving To Work (MTW) Demonstration Program to test new housing strategies using incentives to landlords to rent to Housing Choice Voucher holders. 
HUD plans to evaluate "landlord incentives and their impact on participation in HUD's Housing Choice Voucher Program to improve residents' ability to use vouchers in their community." The latest additions to the MTW program are mostly small and medium-sized PHAs.
This year marks the 25th year of the MTW Demonstration program. The latest expansion brought the number of MTW housing authorities up to 70, out of approximately 3,300 nationwide.
More information about the new MTW Housing Authorities can be found here.
More than $2B in disaster recovery funding offered by HUD
Date Posted: January 31, 2022
HUD is making over $2 billion in Community Development Block Grant Disaster Recovery (CDBG-DR) funds available to states to "recover and improve long-term resilience to disasters and future climate impacts."
Grantees will be required to use the funding to "incorporate disaster mitigation measures into all recovery activities involving construction and to advance equitable distribution of the disaster recovery assistance."
HUD also expressed the need for grantees to equally ensure inclusive measures that will assist low-income residents and people of color to recover from disasters.
HUD will give the CDBG-DR funds for grantees to focus on mitigation for major disasters that occurred in 2020 and 2021. The money will be sent to states that submit actions plans outlining how the funds will be spent.
Remaining funds will be distributed over the next few months to address unmet needs from disasters occurring in 2021.
More information about this disaster recovery funding can be found here.
PHAs ordered to install CO detectors by Dec. '22
Date Posted: January 31, 2022
HUD issued a notice reminding owners and operators of HUD housing to have working carbon monoxide (CO) detectors properly installed in their developments by December 27, 2022. This includes Public Housing Agencies, PBRA developments, Project Based Voucher developments, and other HUD assisted property owners
The notice went on to state that HUD will enforce the requirements decreed by Congress.  
According to the notice, carbon monoxide is an "odorless, colorless, and toxic gas. It is impossible to see, and is a tasteless gas produced by incomplete combustion of fuel burned in vehicles, small engines, stoves, lanterns, grills, fireplaces, gas ranges, or furnaces. It can build-up indoors and poison people and animals who breathe the toxic fumes. The effects of CO exposure can vary from person to person depending on age, overall health, and the concentration and length of exposure. Exposure can cause harmful health conditions, permanent brain damage, life-threatening cardiac complications, fetal death or miscarriage, and death in a matter of minutes. Individuals who are asleep or intoxicated may die from Carbon Monoxide poisoning before experiencing any symptoms".
The full Public and Indian Housing Notice can be read here.
Other Housing News
Boston mayor announces $40M in funding for low-income housing
Date Posted: January 25, 2021
Boston, MA Mayor Michelle Wu is distributing funding to build and preserve 718 low-income housing units in the neighborhoods of Hyde Park, Chinatown, Dorchester, Jamaica Plain and Roxbury.
Housing development projects will include rental housing for seniors, low income families and persons with disabilities, and also create home ownership opportunities for low-and moderate-income Boston families. The proposed projects must comply with the Mayor's Office of Housing green development and zero emissions standards.
These funds will be distributed from the Mayor's Office of Housing, the Neighborhood Housing Trust and the Community Preservation Fund.
More information about the funding in Boston can be found here.