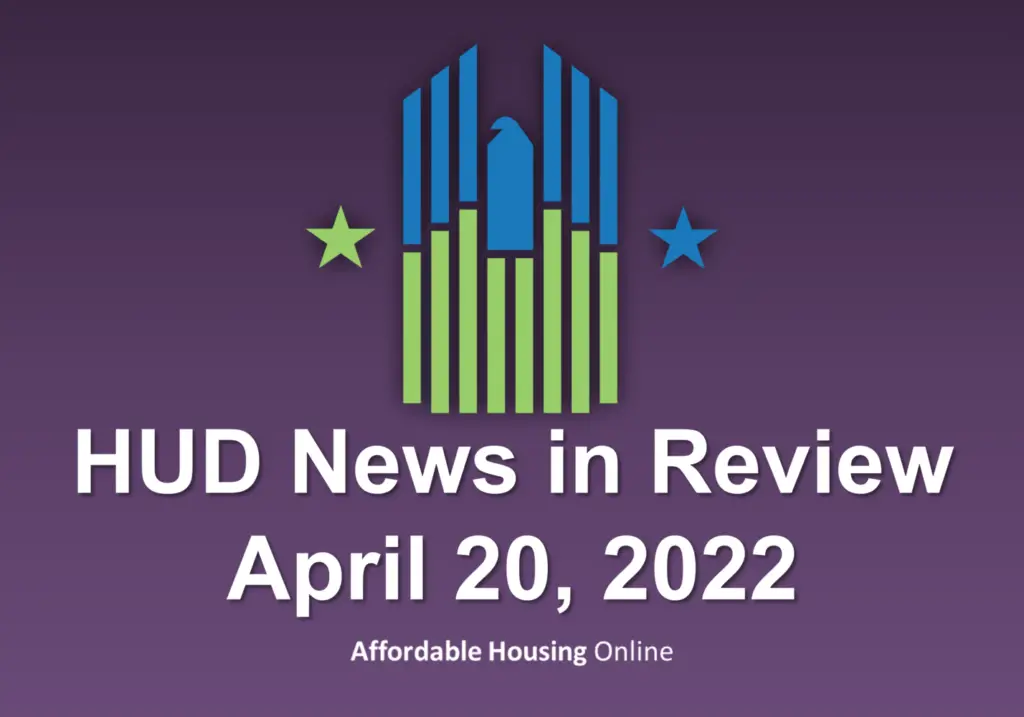 Disclaimer: Affordable Housing Online is not affiliated with HUD, or any HUD agency.
This week's announcements by the Department of Housing and Urban Development include:
HUD to sell reverse mortgage notes
Date Posted: April 12, 2022
On June 8, HUD will conduct a sale of approximately 1,450 reverse mortgage notes for properties where the borrower is deceased and not survived by a non-borrowing spouse.
The sale will be exclusively for non-profit organizations and state and local governments with the goal of providing additional housing for low-income families.
Non-profit organizations and state and local governments may register online for a virtual training conference on the sale process and how to make bids.
Registration information can be found here.
---
JCL Management and Pilot Cove Development Resolve HUD Compliance Review
Date Posted: April 13, 2022
After a compliance review conducted by HUD highlighted concerns with JCL Management and Pilot Cove Development's marketing and renting procedures, an agreement was reached between HUD and Pilot Cove Development.
Pilot Cove is a 130-unit Senior Apartment development located in the Bronx, New York.
As part of the agreement, JCL Management and Pilot Cove Development will change their waiting list procedures to avoid the exclusion of tenants because of race, color or national origin.
The agreement requires JCL Management and Pilot Cove Development to use $50,000 to advance fair housing choice and includes at least $10,000 for advertising, marketing and outreach efforts and the creation of a website.
In addition, Pilot Cove Development has agreed to make applications available, and accept applications by mail, email, in person, and online. Other required steps include revision of procedures to ensure that evaluation of applicant credit or rental history is in line with civil rights laws.
---
HUD will provide $37M for OH loan pool project
Date Posted: April 13, 2022
HUD is providing a $37 million loan guarantee to the City of Toledo, Ohio for a Loan Pool Project.
The funding is awarded through the Section 108 program which provides Community Development Block Grant grantees a way to leverage annual grant allocation to finance economic development, housing and other projects that help communities.   
HUD defines the Section 108 Loan Guarantee Program as a way to allow CDBG recipients to "leverage their annual grant allocation to access low-cost, flexible financing for economic development, housing, public facilities, and infrastructure projects".
Funding from the loan pool will be made available citywide in Toledo and will be a source of long-term fixed-rate financing that is not currently available through conventional resources. 
Target projects available for funding through the loan pool will include investments in communities and neighborhoods of color and will provide financing of projects to minority-led organizations.
---
Equity Action Plan released
Date Posted: April 14, 2022
HUD released an Equity Action Plan which is in line with the directives found in President Biden's Executive Order 13985 entitled "Advancing Racial Equity and Support for Underserved Communities Through the Federal Government."
HUD's Equity Action Plan was completed in collaboration with the White House and addresses ways to remedy the lack of minority homeownership, and focuses on equity in the delivery of services to homeless populations.
Read the Full Equity Action Plan here.
---
RAD transaction completed in FL
Date Posted: April 18, 2022
On April 14, HUD completed a Rental Assistance Demonstration agreement with the Housing Authority of the City of Tampa in Florida to replace 97 Public Housing apartments and, to build an additional 99 affordable homes at the Canopy at West River community.
The new construction will be located in a seven-story high rise building and a five-story midrise building with amenities including garage parking, a fitness center, and high-speed broadband. The new apartments will also feature green and energy efficient features.
Read the HUD press release here.
---
BOA and HUD sign agreement settling sex discrimination complaint
Date Posted: April 19, 2022  
HUD signed an agreement with the Bank of America and one of its loan officers to settle allegations cited in a sex and familial discrimination complaint. Bank of America and the loan officer was accused of having refused to approve a mortgage loan for a family until one of the members of the family returned to work from maternity leave.
HUD is tasked with upholding the Fair Housing Act which includes protection from familial discrimination for families including any persons who is pregnant. The Fair Housing Act also  prohibits housing providers from imposing any special requirements or conditions on tenants with custody of children.