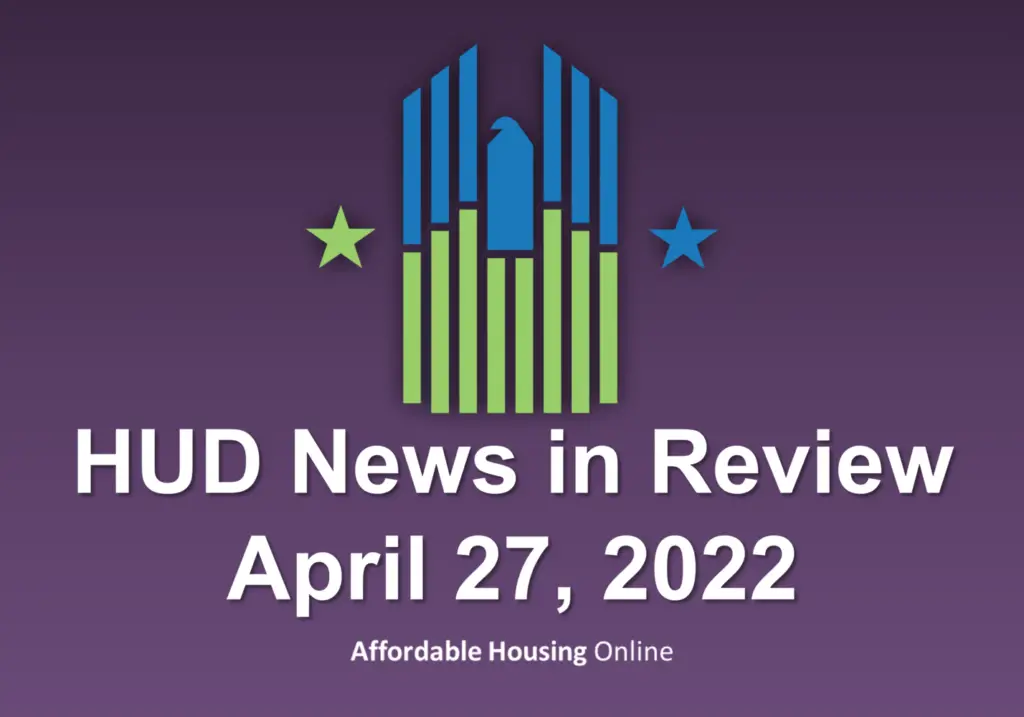 Disclaimer: Affordable Housing Online is not affiliated with HUD, or any HUD agency.
Here are the latest announcements by the Department of Housing and Urban Development:
HUD charges MN building owner with disability discrimination
Date Posted: April 26, 2022
HUD has charged Major Management Company and Larpenteur Estate Apartments in St. Paul, Minnesota with discrimination because of their alleged refusal to rent an apartment to a woman with a disability who owns a service animal.
The charge alleges the complainant was turned away from renting an apartment because she had an assistance animal. The owner of the apartment building allegedly told the complainant that she was welcome, her animal was not.
The Fair Housing Act prohibits discrimination against home renters on account of race, color, religion, sexual orientation, nationality, disability, or family status.
People who believe they are the victims of housing discrimination should contact HUD at (800) 669-9777 (voice), 800-927-9275 (TTY), or the Department of Justice at (800) 896-7743 or 202-514-4713. Additional information is available at www.hud.gov/fairhousing and www.justice.gov.
---
HUD supports 'Solar for All' program in D.C.
Date Posted: April 22, 2022
HUD showed support for Washington D.C.'s Solar for All program that allows renters in HUD-assisted properties to access solar power without an increase in their housing costs. 
Solar energy is part of HUD's Climate Action Plan. HUD is also using this announcement to highlight the Biden-Harris Administration's Justice40 Initiative objectives.
The Justice40 Initiative intends to address climate concerns and create benefits for residents of HUD-assisted households through equitable deployment of community solar. It was created to deliver 40% of overall benefits for federal investments in clean energy to disadvantaged communities.
Read more about the Solar for All Plan here.
---
Climate Crisis Fact Sheet released on Earth Day
Date Posted: April 22, 2022
HUD released a Fact Sheet listing HUD's strategies, goals and successes in the struggle against climate change. The Fact Sheet includes a summary of HUD's Climate Action Plan.
The Fact Sheet also emphasized HUD's commitment to lowering carbon emissions in Public Housing and to allow more funds to be spent on providing housing rather than paying utility bills.
Read the full HUD Climate Action Plan here.
---
FHA insures $65M mortgage for apartment development in IL
Date Posted: April 21, 2022
The Federal Housing Agency closed on a $65.9 million loan to help finance the Metro 19 Apartments in Roselle, Illinois.
Insured under the FHA 221(d)(4) New Construction Mortgage insurance program, the new five story apartment building will be located adjacent to the Metra Commuter Rail Station.
Construction of the new development will start this year with leasing to begin in 2024.
---
HUD issues new civil rights guidance for multifamily properties
Date Posted: April 21, 2022
HUD has released new guidance documents for property owners of multifamily developments, which clarifies how certain business practices can perpetuate segregation, or violate Title VI of the Civil Rights Act.
Title VI prohibits discrimination on the basis of race, color, and national origin in programs and activities receiving federal financial assistance.
This comes eight days after HUD announced a voluntary compliance agreement had been reached with JCL Management and Pilot Cove Manor Housing to resolve a compliance review finding concerning non-discrimination in marketing and renting procedures.
HUD states the two documents were created to "clarify how certain marketing, rental application processing, and waitlist management practices can perpetuate segregation or otherwise discriminate in violation of Title VI of the Civil Rights Act."
The new guidance documents are targeted for HUD-subsidized multifamily units nationwide, including Project-Based Rental Assistance, Section 202, and Section 811 subsidized units.
Read the Title VI Marketing Guidance here.
Read the Implementation Sheet here.
---
HUD grants $10M loan guarantee for commercial project in CA
Date Posted: April 20, 2022
HUD is granting a $10.3 million loan guarantee for Los Angeles County, California for the Vermont Manchester Commercial project.
The loan guarantee is intended to be used to finance a mixed-use development of a new 64,000 square-foot community serving retail space as part of the Vermont Manchester Transit Priority Project.
HUD defines mixed-use as a type of flexible zoning that blends multiple uses of land, such as residential, commercial, and office space, to be combined within a single development or district.
The site will accommodate a charter boarding school focused on at-risk youth and financed separately from the other uses on the site. The site will also include a transit plaza, and improvements to a pedestrian and cycling connection to the Silver Line bus rapid-transit station.
HUD states the purpose of the Section 108 Loan Guarantee Program is to provide states and local governments access to low-interest financing for a variety of projects, including: affordable housing developments, public infrastructure improvements and facilities and financing for commercial/industrial development.
Read about HUD's Section 108 Loan Guarantee Program here.
---
HUD Provides Disaster Relief for Areas of MA
Date Posted: April 20, 2022
HUD announced federal disaster assistance recovery efforts for areas of Massachusetts that had a severe winter storm and snowstorm occurring from January 28 to January 29, 2022.
On April 18th, 2022, President Biden declared the counties of Bristol, Norfolk, Plymouth, and Suffolk, including the Mashpee Wampanoag Tribe, as a major disaster area.
Federal funding provided by FEMA is also available on a cost-sharing basis for emergency work in the disaster areas.
Effective immediately, HUD is:
Providing immediate foreclosure relief for families who have Federal Housing Administration (FHA) insured mortgages and to Native American borrowers guaranteed under the Section 184 Indian Home Loan Guarantee program. For assistance, call your loan servicer or FHA's Resource Center at 1-800-304-9320. 
Through HUD's Section 203(h) program, providing FHA insurance to disaster victims whose homes have been destroyed or extensively damaged. Borrowers from participating FHA-approved lenders are eligible for 100 percent financing, including closing costs.
Through HUD's 203(k) loan program, making financing or refinancing of a home along with money needed for repairs available in a single mortgage.
Working with FEMA and the state of Massachusetts by sharing information on housing providers that may have available housing units in the impacted county.
Providing flexibility for various housing groups including recipients of the Community Development Block Grant, Housing Opportunities for Persons With AIDS, the Continuum of Care, Emergency Solutions Grants, HOME Investment Partnership, and Housing Trust Fund programs.
Providing flexibility to Public Housing Agencies to apply for needed administrative flexibility through disaster waivers.
Providing flexibility for Tribes and their Tribally Designated Housing Entities to apply for needed administrative flexibility through regulatory waivers.
Ensuring HUD-approved housing counseling agencies are ready to assist those impacted by natural disasters to determine assistance needs and available resources.
Housing discrimination sometimes occurs after a disaster during the time when people try to obtain new housing.
HUD's Office of Fair Housing and Equal Opportunity is available to assist people who believe they have experienced housing discrimination while trying to find housing following a disaster.
More information about these disaster resources can be found here.