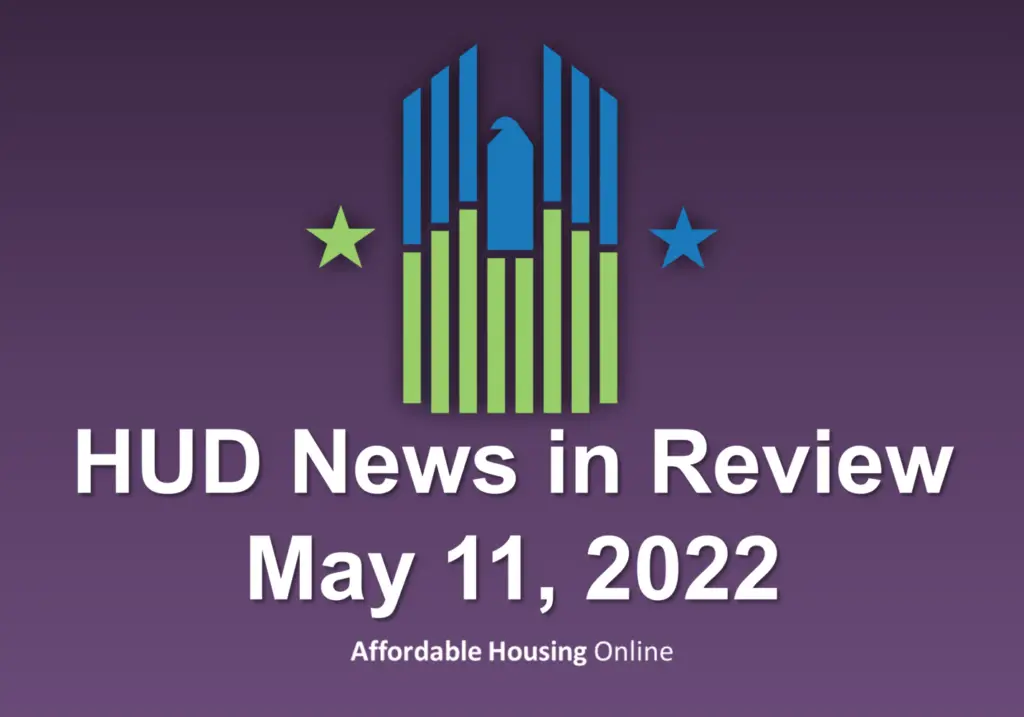 Disclaimer: Affordable Housing Online is not affiliated with HUD, or any HUD agency.
Here are the latest announcements by the Department of Housing and Urban Development:
New FHA Mortgagee Letter helps expand affordable housing supply
Date Published: May 5, 2022
The FHA published a Mortgagee Letter Thursday, which "adds an initial 30-day exclusive sales period for Claims Without Conveyance of Title (CWCOT) post-foreclosure sales for owner-occupants, HUD-approved nonprofits, and governmental entities," according to HUD's press release.
Principal Deputy Assistant Secretary for Housing and the Federal Housing Administration Lopa P. Kolluri said:
"This policy change is critical as the nation continues to address the challenges of a real estate market in which home prices are high and the availability of affordable housing supply is low, making it difficult for individuals and families to achieve the dream of homeownership."
More information about Mortgagee Letter (ML) 2022-08, Expanding Affordable Housing Supply Through FHA's Claims Without Conveyance of Title can be found here.
---
Housing discrimination charges in Puerto Rico announced by HUD
Date Published: May 5, 2022
HUD will charge owners, a manager, and a real estate agent of an apartment building in San Juan, Puerto Rico "with housing discrimination for allegedly refusing to rent to a person with disabilities because she uses a service animal," the department states.
Demetria L. McCain, HUD Principal Assistant Deputy Secretary for Fair Housing and Equal Opportunity said:
"Service animals allow people with disabilities to perform life's daily activities and maintain their independence," said . "Today's action demonstrates HUD's ongoing commitment to take appropriate action when housing providers fail to comply with the Fair Housing Act."
More information about HUD's housing discrimination charge can be found here.
---
HUD announces disaster assistance for New Mexico
Date Published: May 6, 2022
On Friday, HUD announced federal disaster assistance "in the areas of New Mexico affected by wildfires and straight-line winds beginning on April 5, 2022, and continuing;" as stated in its press release.
President Biden issued a major disaster declaration for the Counties of Colfax, Lincoln, Mora, San Miguel, and Valencia, NM, on May 4, 2022.
More information about disaster assistance for New Mexico disaster survivors can be found here.
---
Federal joint-statement released to help connect homeowners to COVID relief
Date Published: May 6, 2022
Secretaries of four federal departments have released a statement Friday, "calling on servicers of federally backed mortgages to make every effort to ensure no individual or family unduly experiences unnecessary hardship or foreclosure while assistance is available under the Homeowner Assistance Fund," HUD says in its joint-press release.
The message is from Housing and Urban Development Secretary Marcia L. Fudge, Veterans Affairs Secretary Denis McDonough, Agriculture Secretary Tom Vilsack, and Treasury Secretary Janet L. Yellen.
"We are strongly urging all servicers of federally backed mortgages to pause foreclosure proceedings when they are notified by a HAF program administrator of a pending HAF application to avoid unnecessary harm to vulnerable homeowners," the press release states. "Pausing any pending proceedings is a vital step towards keeping families in their homes as they receive assistance through the HAF program and is consistent with Congress's intent in putting in place the HAF program to protect vulnerable homeowners."
More information on the multi-department statement can be found here.
---
HUD informs 4M households of income determination change
Date Published: May 9, 2022
On Monday, HUD told more than four million of its households "that receiving benefits from the Bipartisan Infrastructure Law's Affordable Connectivity Program (ACP) does not count as income for determining family rent or impact their eligibility for HUD assistance."
HUD Secretary Secretary Marcia L. Fudge said:
"We are deeply committed to ensuring that communities have the necessary resources to thrive, especially when it comes to accessing reliable and affordable broadband coverage. With today's action, we are making it clear that eligible HUD households can get the financial help they need to equitably access broadband without losing access to critical HUD programs."
More information about this action to expand broadband to low-income households can be found here.
---
Eviction Protection Grant Program expanded with $20M in grants
Date Published: May 9, 2022
HUD announced on Monday that it has offered 11 organizations $20 million in new grants for its Eviction Protection Grant Program. This doubles the amount that was originally allocated when the program launched in November, 2021.
HUD Secretary Marcia L. Fudge said:
"We know that access to legal services and eviction diversion programs works. It helps people avoid evictions and protects tenants' rights. Legal services also help landlords access available resources to address rent arrears. We are proud to expand the Eviction Protection Grant Program so that more families have access to eviction protection services."
More information about the grants HUD plans to award can be found here.